Birth Center Protocols Toolkit - Sample Policies & Procedures
A member benefit for Birth Center and Alongside Midwifery Unit Members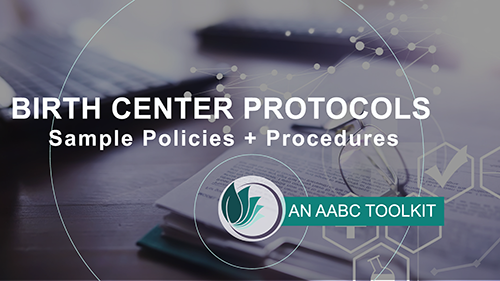 The AABC Birth Center Protocols Toolkit is an incredibly valuable peer resource created by and for the AABC member community. Five birth centers generously contributed their documents—some anonymously, others named—to share knowledge and elevate standards of care. It's important to note, these documents are shared as examples: AABC has not reviewed the content from a clinical lens, therefore we cannot endorse any specific protocol. Most of these policies were reviewed in 2021. We'll update this toolkit periodically to reflect the nature of ongoing review. If you would like to contribute your own policies and procedures to this project, please fill out the P&P contributor survey and AABC staff will be in touch soon!
The toolkit includes:
Definition of terms from CABC

CABC recommended areas of focus

Five P&P documents from state license, CABC accredited birth centers, available as downloadable PDFs.

Sample Birth Center A
Sample Birth Center B
Sample Birth Center C
Tree of Life Birth and Gynecology
Willow Midwife Center for Birth and Wellness AZ

Link to our P&P contributor survey for readers who want to share their own document


MEMBERS ONLY: SEE NOTE BELOW
Download Now
This toolkit is a member benefit for Birth Center, Developing Birth Center, and Alongside Midwifery Unit members. Be sure to
log-in to your account
before downloading.