Back to Products & Services
AABC Birth Center Survey Report
Reference Materials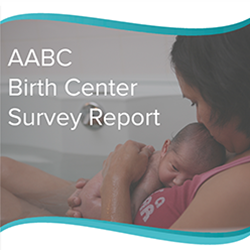 A comprehensive look at birth centers in the United States, this ebook is the result of analysis of the AABC Survey of Birth Centers in 2016.
Table of Contents
Introduction
Acknowledgements
Foundation for Birth Center Growth
Characteristics of U.S. Birth Centers - location, longevity, organizational structure, ownership, facility, annual births, volume and number of birth rooms, licensure, accreditation, AABC membership, other services
Preparation for Birth Center Opening
Personnel and Staffing - administration, type(s) of midwifery provider, staffing model, personnel attending births, clinical staffing for closed model birth centers, salaries and compensation, benefits, midwife workload
Role in professional education
Financial Health - gross revenues, birth center charges, births to break even, perceived financial health, consistency of financial health, indicators of financial health, influences on financial health, payer mix, insurance contracts
Liability Insurance
Clinical Protocols - Vaginal Birth After Cesarean (VBAC), water immersion, Group B Streptococcus (GBS), postpartum follow-up and home visits
Transfers - review of transfers
Collaboration
Mainstreaming Birth Centers: Challenges & Opportunities
Birth Centers Located Outside the United States - birth center characteristics, other services, preparation for opening, staffing and personnel, professional education, financial health, clinical protocols, transfers, collaboration
Format: Downloads as PDF file.
---