Back to Products & Services
Presentation Slide Deck - Birth Centers in the US - Policy, Regulation and Access to Care
Education & Marketing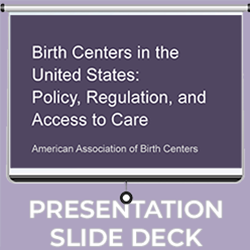 A presentation resource to educate policymakers and other decision-makers on the benefits of birth center care. This slide deck reviews the following the topics:
Birth centers and maternal health in the U.S.
Licensure and regulation impact on numbers
Medicaid Reimbursement
Strong Start
ACOG/SMFM Levels of Maternity Care
CMS Guidance on Medicaid reimbursement, BABIES Act
Format: Downloads as PDF file. Powerpoint format available on request.
---