For Policymakers
The American Association of Birth Centers (AABC) is the nation's foremost authority and resource on birth centers. There are more than 400 freestanding birth centers in the United States which offer women a home-like, comfortable setting where they can receive maternity care with appropriate levels of intervention. Relationship, continuity of care, and increased time spent with clients are core components of birth center care. Multiple studies demonstrate that birth center care is safe, cost-effective, and leads to excellent outcomes when care is provided according to AABC Standards. Continuous risk screening is a key component of birth center care. Women are screened for risk status throughout pregnancy care, labor, and birth to ensure they are appropriate for the birth center setting.
Freestanding birth centers are currently underutilized in the United States, with only 23,546 births, or 0.6 percent, of all U.S. births occurring in birth centers in 2021. Though the percentage of women who currently give birth in birth centers is low, it is increasing. There has been a 65 percent increase in the number of birth center births in the last ten years. The birth center model of care is limited in part by regulatory barriers, inadequate reimbursement, or coverage denials by contracting Medicaid, Managed Care Organizations, TRICARE, and other health plans.
BIRTH CENTERS ARE A GOOD VALUE
Freestanding birth center care is one of the enhanced care models that was studied in the four-year Strong Start for Mothers and Newborns Initiative sponsored by the Center for Medicare and Medicaid Innovation. Beginning in 2013, AABC convened a group of 45 birth centers around the U.S. to provide enhanced prenatal care services to Medicaid beneficiaries.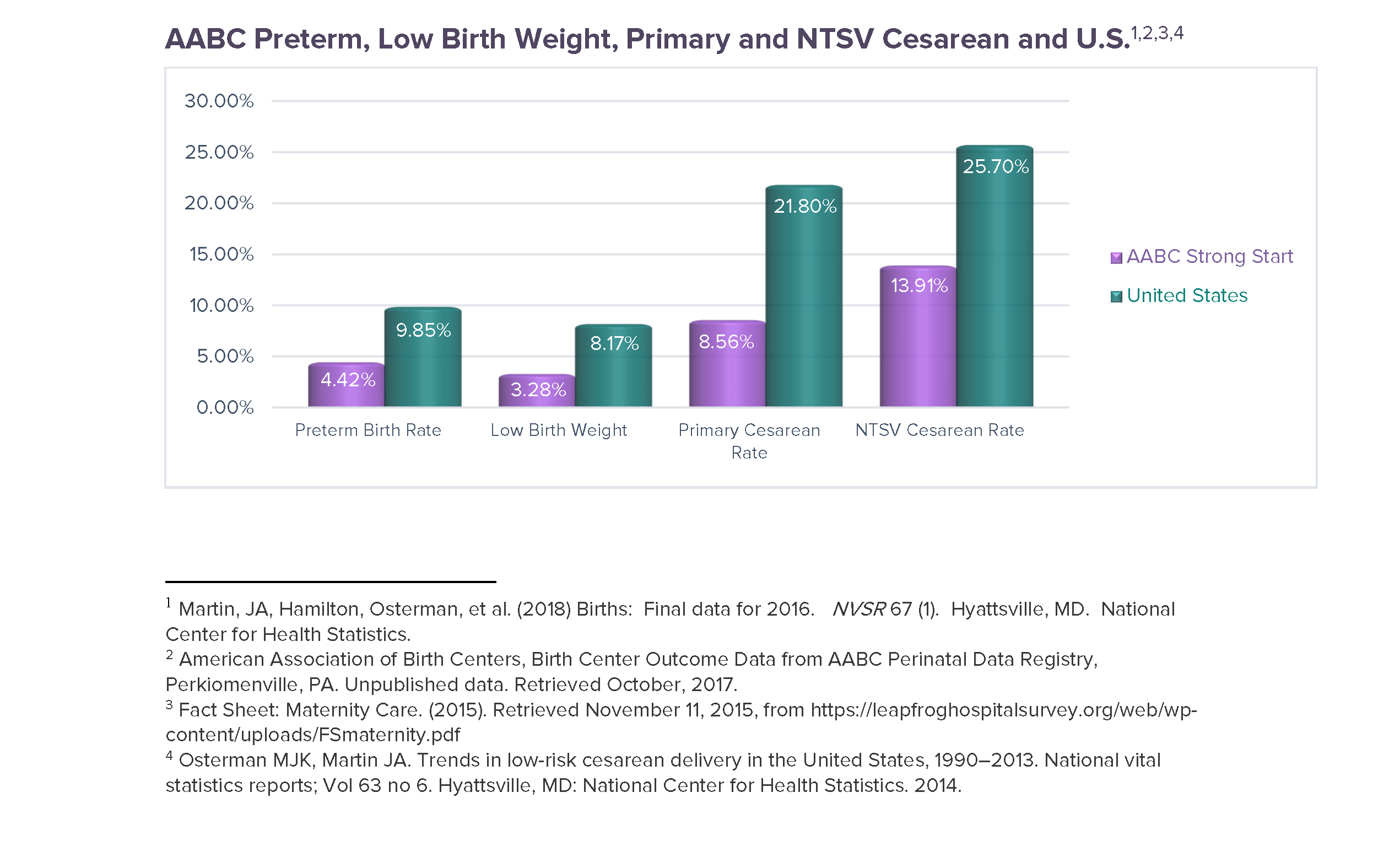 Data show that AABC Strong Start participants enrolled in the study experienced a preterm birth rate of 4.42 percent, a low birthweight rate of 3.28 percent, and a primary cesarean rate of 8.56 percent for 6,424 births. National rates for these indicators are 9.85 percent for preterm birth, 8.17 percent for low birthweight, and 21.8 percent for primary cesareans. It is estimated that Medicaid savings per 10,000 births for cesareans prevented is $4.35 million, and $24.25 million for the reduction in preterm births.
AABC'S PRIORITIES
Expand Federal investment in comparative effectiveness research to further evaluate the quality and clinical outcomes of the birth center care model and the potential cost savings to Federal health programs.
Reduce regulatory barriers and promote policies that expand access to birth center care for all women.
Work toward a new federal model of health facility called the Birth and Women's Center, to be located in underserved rural and urban areas, which would improve access and outcomes for women and newborns.
QUESTIONS?
Contact Jill Alliman, DNP, CNM, Chair of AABC's Government Affairs Committee